Greenleaf Music: Downloading in Downbeat
Check out this article from the current Downbeat about digital downloading and jazz labels. Our illustrious and eloquent label exec Mike Friedman gets some well-deserved ink. And, as you can see below, our Live at the Jazz Standard info page gets the top spot.
Click on the picture to read the full article. Very interesting stuff.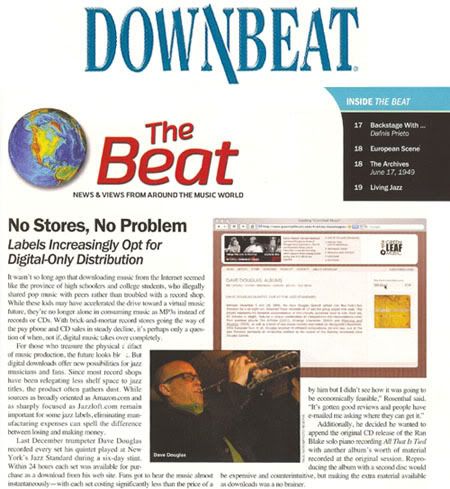 No Stores, No Problem
Labels Increasingly Opt for Digital-Only Distribution
It wasn't so long ago that downloading music from the Internet seemed like the province of high schoolers and college students, who illegally shared pop music with peers rather than troubled with a record shop. While these kids may have accelerated the drive toward a virtual music future, they're no longer alone in consuming music as MP3s instead of records of CDs. With brick-and-mortar record stores going the way of the pay phone and CD sales in steady decline, it's perhaps only a question of when, not if, digital music takes over completely.
For those who treasure the physical artifact of music production, the future looks bleak. But digital downloads offer new possibilities for jazz musicians and fans. Since most record shops have been relegating less shelf space to jazz titles, the product often gathers dust. While sources as broadly oriented as Amazon.com and as sharply focused as Jazzloft.com remain important for some jazz labels, eliminating manufacturing expenses can spell the difference between losing and making money.
Last December trumpeter Dave Douglas recorded every set his quintet played at New York's Jazz Standard during a six-day stint. Within 24 hours each set was available for purchase as a download from his web site. Fans got to hear the music almost instantaneously–with each set costing significantly less than the price of a new album, at $7 per set. Douglas and his Greenleaf Music label got financial returns just as quickly. "We put the money out to make the record in the middle of November," said Mike Friedman, the trumpeter's partner in Greenleaf. "It hit in the first week of December and by the end of the month we had our money back."
Having financial resources tied up in manufacturing costs, shipping, returns and slow payment led Andy Hurwitz, the president of Ropeadope Records, to recently shift the label to focus almost exclusively on digital-only releases. He says his statements from distributors of compact discs consistently showed a loss, while from the start the statements from his digital music aggregator–the middleman between independent labels and digital retail outlets like iTunes, eMusic and Rhapsody–revealed a profit. "This past January we got both statements on the same day," Hurwitz said. "And it was a genuine 'Eureka!' moment."
In February Ropeadope rolled its initial batch of digital-only release–from the likes of Skip Heller and DJ Klock–as part of a new agreement with the artists, who produce the recordings themselves and partake in a 50/50 profit split with the label with almost zero overhead expenses. Hurwitz's label plans to release two new titles every month.
The same thinking led Josh Rosenthal of Tompkins Square Records to release Low Barometer, a new solo recording by guitarist Bern Nix, as a digital-only title. The label recorded the album a couple of years ago, but it hadn't been able to afford a physical release. "I wanted to put out a record by him but I didn't see how it was going to be economically feasible," Rosenthal said. "It's gotten good reviews and people have e-mailed me asking where they can get it."
Additionally, he decided he wanted to append the original CD release of the Ran Blake solo piano recording All That Is Tied with another album's worth of material recorded at the original session. Reproducing the album with a second disc would be expensive counterintuitive, but making the extra material available as downloads was a no brainer.
Jan Strom, owner of the Swedish free-jazz label Ayler Records, also jumped on the digital bandwagon recently, although he still plans to release several CDs annually. Since the beginning of the year he has released almost 20 new titles as digital-only albums. "A couple of years ago we estimated that there was a risk to not reach the break-even point for a regular CD release," Strom said. "Today we estimate the risk is losing more than $4,000. To break even is a dream. It is better to promote download-only titles than making no CDs at all. At least the artists have a chance to be heard. None of us will become rich from it."
"The cost of manufacturing CDs that aren't selling in stores any more is the main reason why we're doing digital-only releases," said Pat Rustici, general manager of Palmetto Records, which has plans to release new digital-only titles from Slow Poke (Michael Blake, David Tronzo, Kenny Wollesen and Tony Scherr) and Frank Kimbrough, as well as out-of-print recordings by Ben Allison, Bill Mays and Mart Ehrlich. "The technology is at a place now where you can reach a great number of people with it. It makes perfect sense to do this."
Yet it's not only independent labels that focus on avant-garde titles that are turning to downloads. A few years ago Verve Records created the "Verve Vault," and now almost 500 albums from its extensive holdings–including labels like Impulse, Mercury, GRP, Chess and A&M–are available only as downloads. While Matthew Fitz-Henry, digital marketing manager for Verve, said that some titles have only sold a handful of units, others have done well. He agrees with the almost utopian vision of digital downloading that everything that a given imprint has recorded can one day be available. Yet even as the company continues to release four or five titles monthly, there's a long way to go.
We're working on digitizing everything that's been released on CD [in the past] and after that we plan to tackle all of the stuff that hasn't yet been transferred to digital," Fitz-Henry said. He also notes that amid the Universal catalog, full jazz albums sell at a higher percentage in the digital realm of total album sales than pop titles.
According to Ray Farrell, vice president of label acquisition for eMusic–one of the oldest download sites and the biggest independent-only MP3 web source–jazz ranks third in sales for the company as a genre. "Buying music online breaks down a barrier," Farrell said. "If you've been frustrated as a consumer by going into a store that has a basic selection of jazz and you ask at the counter about the jazz catalog there's a good chance nobody will know about it. Now people can explore this music without feeling compelled to make a purchase of a $19 CD. Instead they can try on song."
Sunnyside Records, which remains committed to releasing CDs, can't ignore its digital sales, either. According to label owner Francois Zalacain, about 15 percent of its total album sales in 2006 were digital; he expects that figure to jump to between 20 percent and 25 percent this year. "We don't know what is going to happen," Zalacain said. "Yes, digital will become bigger, but I don't know if it will totally replace the physical release."
For the time being, Zalacain sees digital-only titles as a good opportunity to test the impact of new artists. If response is good, then pressing a physical CD might make sense. But he sees an aversion to the digital format from press and radio as a big hurdle to making the leap.
Friedman, on the other hand, has no such qualms despite an abiding love for records. Although Greenleaf has continued to manufacture physical CDs–both for high-profile Douglas titles like last year's Meaning And Mystery and releases in the imprint's no frills Paperback live series–in most cases they're available only from the label's web site. "We didn't see a future for us as a retail-only label," he said. "Frankly, I don't see how any jazz label can be that way going forward."
Friedman and Douglas didn't draw up an elaborate business plan, but over the last few years they've increasingly trusted their guts while paying keen attention to the rapid shifts in online music business. By enhancing the Greenleaf web sire–including an increasingly popular blog written by Douglas–the label has sought to become a destination for jazz fans, not just a place to buy the trumpeter's music.
Ultimately, the financial fluidity afforded by such direct sales is what excites Friedman most. A few years ago he made a record with famed engineer Rudy Van Gelder at the board. Van Gelder talked about when a session turned up on album just a few weeks after it was cut. That immediacy bodes well for jazz, Friedman said, not only allowing labels to get music to the consumer and profits to the artists much quicker, but lending the work a sense of urgency that the major label model largely smothered in red tape. If an artist wants to get something out there, he doesn't have to be slowed down by the manufacturing process any longer.
As Larry Robinson, head of the digital music aggregator Avatar–which works exclusively with iTunes–pointed out: "The Internet–specifically Apple's iTunes Music Store–allows musicians to bypass the record companies, maintain ownership of their master recordings and receive the lion's share of the revenue."
Avatar recently brokered an agreement with the estates of Dexter Gordon and Woody Shaw to sell previously unreleased sessions online. No record label is involved.
"In some ways this is probably one of the best times for jazz in that there are so many ways to reach an audience that you couldn't before," Farrell said. "You don't need to be restricted by distribution channels."
The ascent of digital downloads will alienate certain music consumers unwilling to invest in new technology, and that resistance may result in fewer sales. But as Friedman said, less unites doesn't have to mean less money: "The key to selling it through out web site is that we get the money that day, and more of it."
-Peter Margasak
Other posts you may like: