Finylly some vinyl ~ Spark Of Being: Expand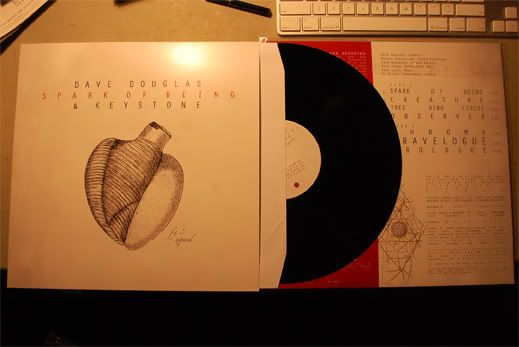 This hand-numbered limited pressing on 160 grams of virgin vinyl is now in our office ready to ship. Instead of shrinkwrap, we've included a resealable 3 mil PolyPro sleeve to protect your wax. Your needle will thank us later. Happy spinning of the first ever Dave Douglas LP!
—
All of you who have preordered and purchased the Spark Of Being: Expand LP saw a shipping notification earlier this week. We were happy to finally get those out the door — being our first foray into wax, we found out vinyl production takes a bit longer than CDs. Again apologies for the delay.
—
Spark Of Being: Expand is the centerpiece of the trilogy. Clocking in just over 40 minutes, the record is as concise of a record as Greenleaf has released. Using this one as the launching point, you can go back and check out the Soundtrack and all it's textures and soundscapes, and then go forward to Burst for the alternate themes penned for the project. All is full of funk and electronica elements. Check out tracks from each at the links to the GLM store above. And preorder the 3CD Box here.