Workshop Week The Second.
This morning at the Banff Center.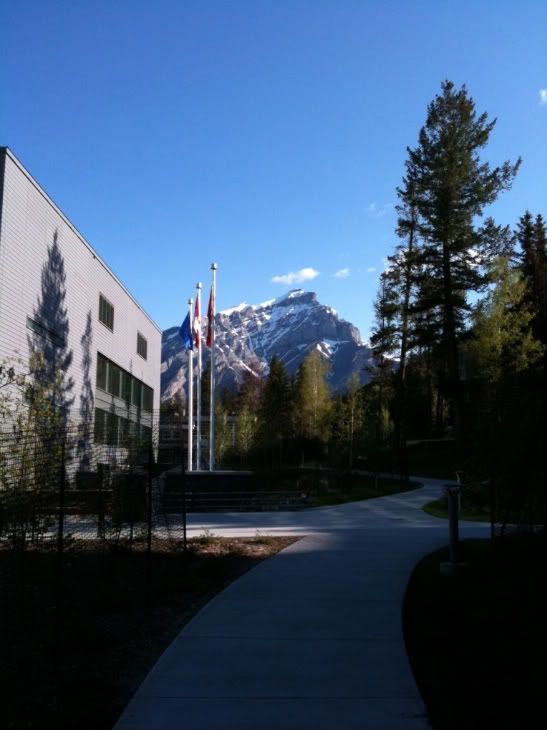 Last night's concert was one of the most diverse we have had: various combinations of Eyvind Kang, viola; Brandon Ross, guitar; Myra Melford, piano; Steve Lehman, saxophone; Anthony Cox, bass; Jerry Granelli, drums; Clarence Penn, drums; myself, trumpet. We were spurred on by the Vancouver Canucks' victory in game 2 of the Stanley Cup finals, closing with a piece by Don Cherry in their honor.
In the context of the FONT and Vision concerts in New York this week, the sonic explorations felt of a piece with this particularly interesting time to be making music.
Diversity is one of the great strengths of this workshop and the opportunities made available by the Banff Center. Last night's post-concert jam session was opened by a burning quartet with members from Latvia, Australia, South Korea, and Rochester, New York. The program encompasses a wide swath of communities, instrumentations, lineages, and musical philosophies.
It was a profound week witnessing the visiting artists talk about lineage and practice. Sometimes challenging, even infuriating (Brandon had people shouting in about five minutes), and sometimes confusing, but all ultimately thought-provoking and demanding of concentration, focus and imagination.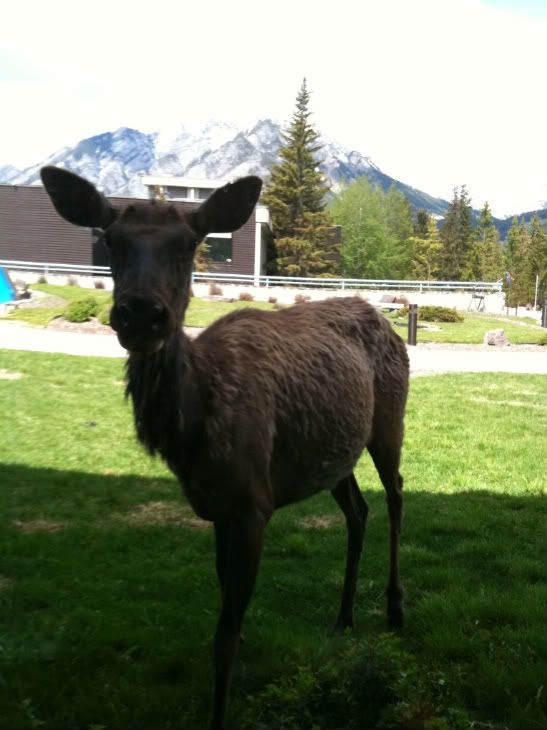 Brandon Ross talked about the intervallic system of melody and harmony developed by Henry Threadgill, and its impact on his own music. This is not information that is shared widely, and it gave a new insight into how Henry's music works and what is going on in the performance. Hands-on playing of Brandon's music shed further light on what can seem a mysterious process.
Eyvind Kang gave two classes last week, the first focusing on the basic building blocks of sound, the second an explication of Ornette Coleman's theory, entitled General Harmolodics. It was the most thorough examination of that concept I've ever seen. Really inspiring.
Myra Melford spoke about and demonstrated a number of strategies for large group improvisation pieces, including systems by Butch Morris, Fred Frith, John Zorn and group interactions of her own devising. Myra ended up giving multiple late night sessions with this material, as well as working with pianists and coaching ensembles in her small group work.
Steve Lehman talked about directionality in music from the standpoint of fully developing one's materials. The talk encompassed his inspiration from Spectralism as well as some specific applications to rhythm in his work. Steve also played some of his pieces, and in the concert last he night played an incredible rhythmic re-arrangement of Benny Golson's Stablemates in duo with Clarence Penn.
Anthony Cox gave a class on the current career environment, starting from Chris Anderson's The Long Tail and leading into a free-wheeling discussion of new music strategies. Anthony also coached a remarkable ensemble that, in the course of four rehearsals, created an entire set of original through-composed music from scratch. Lyrics and everything. Their set in the club was one of the week's highlights for me.
Jerry Granelli and Clarence Penn both worked intensively with drummers and rhythm players. In addition, Jerry gave morning meditation classes, speaking from his 40 year engagement with Buddhism. Mindfulness practice also inhabited his musical coaching in a powerful way. Despite the late hours musicians always seem to keep, Jerry's early sessions were well-attended daily.
My own involvement, aside from just keeping the whole thing running, was with singing more Bach, playing more Monk, listening to more Ellington, and reading through new charts of the Quartet music I wrote in the 90s for Chris Potter, James Genus, Ben Perowsky and myself. The charts are almost complete, and Greenleaf will be publishing a set of 20 tunes in the coming months. Other ensembles have been playing music from Charms of the Night Sky, Witness, and Soul on Soul, and some of those charts will be ready for publishing later this year.
There are 65 participants here, and they are all helping me (they may not know it, but now it's on my blog) prepare for the upcoming Clearwater Fest, Solid Sound, Berlin Sounds No Walls, JazzBaltica, and Tea for 3 performances. All of these musicians exhibit such openness and curiosity–it's infectious. Likewise their ability to push past exhaustion into the next musical adventure is simply inspiring.
It's a gift to be here on this beautiful Sunday, and with one week to go (Kneebody arrives today) we're enjoying the warm weather and clear skies here in Banff National Park.
Other posts you may like: