Stanford Mobile Phone Orchestra
The Times gives front page coverage:
Ge Wang, the assistant professor of music who leads the two-year-old Stanford group, says the iPhone may be the first instrument — electronic or acoustic — that millions of people will carry in their pockets. "I can't bring my guitar or my piano or my cello wherever I go, but I do have my iPhone at all times," he said.

Professor Wang said he would like to democratize the process of making music, so that anyone with a cellphone could become a musician. "Part of my philosophy is people are inherently creative," he said. "It's not just people who think of themselves as artists."

…

Professor Wang, who still plays the guitar he learned in middle school, acknowledges that "nothing is better than a cello at playing the cello."

Still, he hopes that his ensemble — which builds the instruments, writes the music and performs it — will invent the instruments of the future.
Plus, cool pictures from CCRMA at Stanford University. This is the room where Keystone will be creating Spark Of Being in January.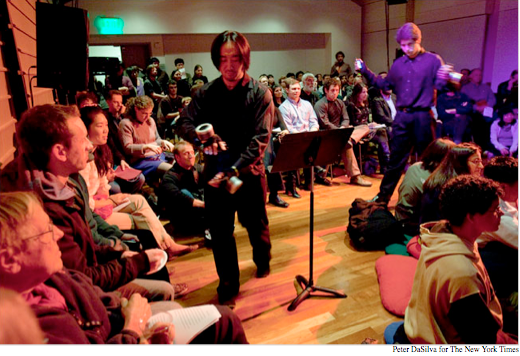 Other posts you may like: