I first heard bassist Mark Dresser perform live at the much storied New Music Monday series at the Alligator Lounge in Los Angeles around 1995. He played solo bass, and I was amazed at the sounds he could coax out of his instrument. He had developed entirely new ways to create sounds on the bass that involved placing pickups above the nut and underneath the fingerboard, and he had developed new ways to play his instrument to exploit those new sounds. Of course I had been familiar with Mark through albums by the string trio Arcado, with Mark Feldman and Hank Roberts/Ernst Reisinger and other recordings, but hearing him perform live changed my life. The next time I heard him play in person was at Pilot Studios in NYC, while producing Nels Cline's first Cryptogramophone CD called "The Inkling." The album featured Nels on guitar, Mark on bass, Billy Mintz on drums, and Zeena Parkins on acoustic and electric harp. It was then that I learned what a great person Mark is, and how generous he is as a musician. Since that time, Mark has appeared on five other Crypto CDs including "Sonomondo" with Frances-Marie Uitti, his own two recordings as a leader "Aquifer" and "Time Changes," "Pomegranate" by Steuart Liebig, and "Big Picture" with Trio M (Myra Melford, Mark Dresser, and Matt Wilson).
Mark sent a demo copy of "Sonomondo" to me shortly after The Inkling sessions. I had never heard of Frances Marie-Uitti before, and as a string player I was particularly skeptical of the idea of playing the cello with two bows at the same time. However, when I finally heard the amazing sounds she made, and how well they blended with Mark's own innovative techniques, I was completely sold. The title "Sonomondo," which means Sound World, just about sums it up. These amazing musicians create as much sound as an entire string quartet, and they have an amazing intuitive hookup. As a string player, this album completely blew my mind.
And let's talk about Mark's compositions for a moment. Mark's music comes well out of the tradition, and evinces both harmonic and melodic post-bop sophistication. But to really understand Mark's music is to realize that he's a rhythmic monster. Not only does he lay it down in a serious way as a player, but he's figured out ways to extend rhythmic concepts analogous to ways musicians have been extending jazz harmony for years. We're not just talking about playing around the barline here. We're talking about playing around with playing around the barline. Mark's compositions sound completely natural, yet when you dig deeper, they're each like a Rubik's cube of time. Everything fits together precisely, but in totally unexpected ways.
Mark's two other CDs as a leader, "Aquifer" and "Time Changes" document his ongoing relationship with pianist Denman Maroney, another incredible composer/improviser who has discovered new and interesting ways to make sounds on his instrument. "Aquifer" is a trio recording featuring Swiss flutist Matthias Ziegler, "Time Changes" is a trio recording with drummer Michael Sarin, but also features the amazing singer Alexandra Montano who tragically passed away two years ago. For those of you who aren't familiar with Alexandra's work, Aperitivo from Time Changes is an excellent place to start. Below you'll find links to pieces from "Sonomondo," "Aquifer," and "Time Changes." "The Inkling," "Pomegranate," and "Big Picture" will be featured on future entries about Nels Cline's and Myra Melford's music on Cryptogramophone.
Mark Dresser is a phenomenon. After 30 years of paying his dues on the Downtown scene, he's now professor of bass at UC San Diego, having taken over the chair of his former teacher Bert Turetsky. Mark now continues his international career from his new home in San Diego.
Time Changes by Mark Dresser and Denman Maroney
Mark Dresser – bass
Denman Maroney – hyperpiano
Michael Sarin – drums, percussion
Alexandra Montano – voice
Aperitivo from Time Changes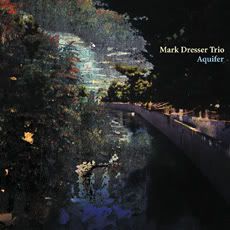 Aquifer by Mark Dresser
Mark Dresser – contrabass
Denman Maroney – hyperpiano
Matthias Ziegler – electro-acoustic flutes
Modern Pine from Aquifer
Sonomondo by Mark Dresser and Frances-Marie Uitti