Constellations (2009 Reissue)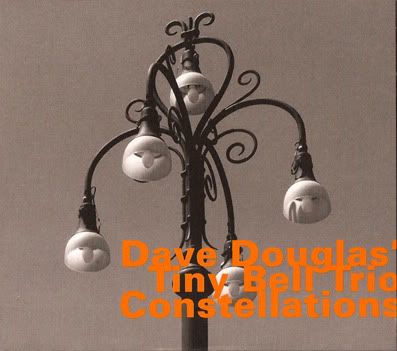 "Constellations is a new set of songs written and arranged for the trio. It was recorded in mid tour, and so has a different, perhaps more live, character … Many thanks go to Brad and Jim for their dedications and commitment to the music. They are two of the finest listeners around, and in our three years as atrio, we've developed split-second reaction times and true fluidity between roles of soloist and accompanist."
– Dave Douglas, 1995
The HatHut reissue of Constellations is now available at our store with full track samples for your listening pleasure. Click the newly-designed album art above to reach the album page. This disc is also available in the Trio Bundle with Donny McCaslin's Recommended Tools, Nicole Mitchell's Indigo Trio, Live in Montreal, and a bonus MP3 download of Tiny Bell Trio Live in Europe.
It had been awhile since I listened to these tracks. Man, what a killer album!
Click here to read the AllAboutJazz review of this reissue.
Douglas' trumpet, visceral and vocalized, steers most of the tracks, counterpointed by Shepik's emphatic, rock-tinged guitar and Black's leathery syncopations. As Douglas observes in his (brief) liner notes, three years down the line Tiny Bell had achieved split-second reaction times and extraordinary fluidity between the roles of soloist and accompanist. Douglas is undoubtedly the leader here but the music is a true collective endeavor. Three exploding stars, a shared focus, and one enduring masterpiece. -Chris May, AAJ
Thanks to Werner Uehlinger at HatHut Records for putting this music out there.