Brit Jazz, Junkyard Trance, and Alt Country
A few links to pass on this fine Tuesday.
Destination:Out, unequivocally my most treasured source for discovering new jams, has a new post today following up a great post last week. The band, Amalgam; the record, Prayer for Peace.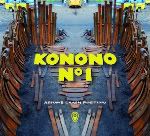 The two tracks posted are killer. Great way to start the day. Or end it. Really any time.
Next, a new Konono No.1 album was announced. Details via Pitchfork. The album titled Assume Crash Position hits the street June 8th. Here's hoping for a stream to come soon. Info on a new Congotronics vinyl box with included Assume Crash Position LP over at the label site (Crammed).
Last, La Blogotheque (found via TwentyFourBit) is featuring a Wilco performance of "Country Disappeared." Pretty cool performance — quiet, stripped-down, no vocal microphones. Definitely check it out.
Other posts you may like: