When the good folks at Greenleaf asked some of us left-coasters at Cryptogramophone to blog on their site, my first inclination was to steer clear of anything that smelled even slightly of self promotion. There's so much to discuss about music, politics, and the economic crisis, that it seemed inappropriate and self-serving to take unfair advantage of this great opportunity. However, last week Ben from Greenleaf suggested that I write several posts about some of Cryptogramophone's more important releases from my perspective as producer. So here I am doing just what I said I wouldn't do.
I started Cryptogramophone in 1998 primarily to release the music of a friend and colleague who had passed away a year earlier at the age of 43, bassist/composer Eric von Essen. Eric was a first call bassist for many jazz artists who came through Los Angeles. He had solidified his reputation by working with such local luminaries as Jimmy Rowles, (with whom he recorded several CDs had a very special musical connection), pianists Alan Broadbent, Gerald Wiggins, and Lou Levy, as well as many international stars such as Bob Brookmeyer, Bud Shank, Shorty Rogers, and many others.
However, guitarist Nels Cline, drummer/percussionist Alex Cline, and I knew him in a different context; as composer and band member in our chamber jazz ensemble called Quartet Music, which we co-led for about 15 years. Quartet Music recorded 4 albums for Nine Winds and Delos Records, toured the west coast as members of the California Arts Council touring roster, and had the rare opportunity to perform two concerts of our own music with the Milwaukee Symphony, a once in a lifetime experience.
Despite working in LA for twenty years, recording numerous albums, and touring with companies like Jazz Tap Ensemble, Eric's notoriety as a bass player has faded over the years. Luckily we still have three volumes of his compositions performed by many of the artists he knew and loved including Alan Broadbent, Nels Cline, Alex Cline, Peter Erskine, Larry Koonse, Kate McGarry, Alan Pasqua, Stacy Rowles, and many others.
Eric died in Sweden after having accepted a teaching position at a small college there. He left behind a notebook containing over 120 compositions. I was familiar with about 1/3 of the pieces from my musical and personal associations with him, but even I was astonished at how large his output was. Eric tended to write for the musicians he played with, so finding the artists to record his music was easy in some respects, and incredibly difficult in others. Eric's musical friendships were many, and once word got out about the project, I received CDs and letters from musicians around the world whose lives Eric had touched. I finally decided to record 5 different groups to document the various styles of music that Eric had written. Eric's influences were many and varied. Having grown up in India, Connecticut, and San Diego, Indian music was never far from his sphere of influence.
His mother Medha Yodh was a well known South Indian Karnatic dancer who taught at UCLA. Eric also listened to and studied classical music, completing a degree in composition at UCLA before launching himself headfirst into the world of jazz. The music of Stravinsky, Mahler, and JS Bach, loomed large in his life, as did the influence of rock and roll. However Bill Evans was perhaps his biggest influences as both pianist, bassist, and composer (Eric was also an accomplished jazz pianist and chromatic harmonica player). The music of Miles Davis and John Coltrane also loomed large in his life.
There is much more to be written about Eric, but nothing says it as well as the three volumes of his music that I produced for Cryptogramophone. All three volumes include tracks by the 5 different groups we recorded, plus a few cameo appearances to round out the efforts. The series has been very well received, and in 2003 NPR's Weekend Edition Sunday ran an 11 minute piece on Eric and the series on the occasion of the release of Volume III.
Below you'll find links to songs from all three volumes, plus a link to the NPR piece about Eric above. As always happens, Eric's memory has faded over time, but the music still sounds fresh and unique. Those of us who learned from him will always count him as one of our most profound teachers. He was incredibly generous with his knowledge and his music, and at the same time both patient and unrelenting. I've performed one of his tunes at every concert my own band has played since he died 11 years ago. This was never a conscious decision, I just couldn't bear the thought of a world without his music. However, now it has become a tradition that will probably continue. I hope that these three volumes will enable others who aren't familiar with his work to discover the Music of Eric von Essen.
Silvana from The Music of Eric von Essen Vol. I (Alan Pasqua – piano, Dave Carpenter – bass, Peter Erskine – drums)
Petite Rayone from The Music of Eric von Essen Vol. II (Jeff Gauthier – violin, Nels Cline – guitar, Mike Elizondo – bass, Alex Cline – drums)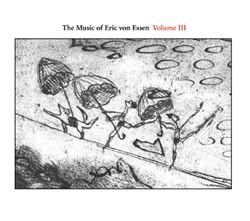 One Eye Laughs, One Eye Weeps from The Music of Eric von Essen Vol. III.
words by Kate McGarry (Kate McGarry – voice, Karen Hammack – piano, Steve Cardenas – guitar, Scott Colley – bass, Kenny Wolleson – drums)
Other posts you may like: