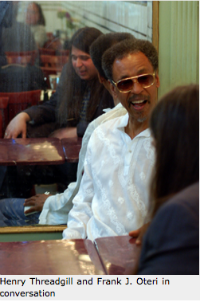 We couldn't do it without the support of all kinds of people (for example, you!) and organizations. More and more, musicians are starting cooperatives and organizing themselves to present and promote great music by their colleagues and themselves.
Highlighting these groups, I opened my mail inbox to this great portrait of Henry Threadgill and attendant interview with Frank J. Oteri. Thanks, American Music Center. Thanks AACM, in a way the mother of all musician-led cooperatives. If you haven't read George Lewis' book, A Power Stronger Than Itself, I recommend it as an engrossing read.
Racer Sessions in Seattle came up here some months ago and recently got wider attention through a NY Times profile.
Firehouse 12 in New Haven has been sponsoring concerts and recordings all sorts of musicians.
In Richmond, VA there's a scene coalesced around No BS Brass band.
In LA, Angel City Festival / Cryptogramophone are facilitating great work in the City of Angels.
In New York there are several: Arts for Art / Vision Festival, The Stone, curated by artists, Festival of New Trumpet Music (whose newest series begins Friday).
I'm sure there are many more going on around the country. Would love to hear about them.