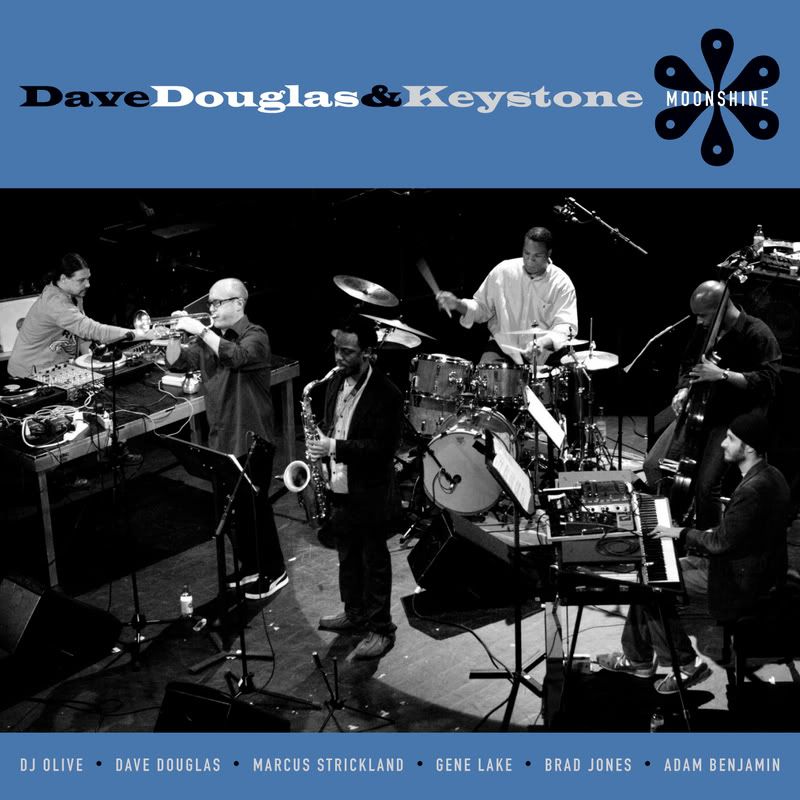 In case you wanted some information along with those new tracks, here are the liner notes and credits. Enjoy.
Films – including 'Moonshine,' the unfinished Keaton/Arbuckle comedy from 1917 – inspired this music. But these pieces weren't written as soundtracks, more as reflections on great forgotten absurdities like 'Mabel and Fatty's Married Life' and 'The Rough House.' The bounce and bubble of those characters begged for a beat – shimmering shadows on the screen hinting at hidden crevices of texture and timbre. The songs reflect the atmosphere of those innocent/zany black and white images, refracted through a 21st century jazz sensibility, interpreted by an eclectic collection of gifted musicians.

There were nights playing the music from Keystone (GRE-03), the first recording of this group, that I wanted to pause the film and let the music wander off on a tangent. The band developed into a live representation of many of the things I've been trying to get at in the studio for the past decade.

DJ Olive plays in shifting tempos now, not locked to a metronomic pulse. Gene Lake and Brad Jones breathe together and welcome a vinyl pulse as if it's another percussionist. Adam Benjamin does everything you hear here on the fly. And playing tag team with saxophonist Marcus Strickland is one of the more combative pleasures in life.

And so this is music for the band. Tunes. As you'll hear, it has become a living, breathing organism. Sometimes, as on Kitten, it breathes fire.

We didn't walk into the Mermaid in Bray, Ireland expecting to make a record. At my request, Damien Chennells had arranged to record multi-track for the Irish National Radio, and the space is built like a studio, with live audience seating built-in. In the middle of a tour, the band was ready to play and by the end of the night, with the momentum building towards Tough, we knew we were getting at something. It felt good, and when I got the tapes that good feeling was confirmed. We got at things we'd only hinted at in a sealed-off studio.

But this is a studio album. Months of working with Geoff Countryman and Tyler McDiarmid will attest to that. We had the flexibility to work with these tapes and develop the inflections. In fact the only evidence of the audience (aside from a few shouts mid-way, thank you, Bray) is that we left some infectious applause at the end. We couldn't get it out actually.
DAVE DOUGLAS & KEYSTONE
MOONSHINE
1. Dog Star
2. Moonshine
3. Married Life
4. Silent Stars
5. Scopes
6. Flood Plane
7. Kitten
8. Tough
All songs by Dave Douglas c2007
Dave Douglas – trumpet
Marcus Strickland – saxophone
Adam Benjamin – fender rhodes
Brad Jones – ampeg baby bass
Gene Lake – drums
DJ Olive – turntables and laptop
Recorded May 4, 2007.
At Mermaid Arts Centre, Bray Jazz Festival, Ireland.
Recorded live by RTE Outside Broadcasts for transmission on RTE lyric fm.
Engineer: Damien Chennells.
Additional Recording by Nate Woods at Kerseboom Studios, Los Angeles, California.
Edited, Mixed, and Mastered by Geoff Countryman and Tyler McDiarmid.
Produced by Dave Douglas for Greenleaf Music.
Photography by Juan-Carlos Hernandez.
Film Stills from "Moonshine," 1917 Roscoe Arbuckle and Buster Keaton.
Graphic Design by Al Brandtner.
Thanks to George and Dorothy Jacob – Bray Jazz Festival, Eoin Brady, Eamonn Lenihan, and Paul Bradley, Michael Friedman and Jim Tuerk, Sophia Wong, Anna Takats, and Karin Kreisl, Sean Carpio, Jacob Wick and Greg Felton, Suzannah and Drummond, Peter Buerli, Rene de Rooij, and Vera Vingerhoeds.
Other posts you may like: