Downbeat Critics Poll '07
It's that time of year again when Downbeat releases its Critics Poll awards, and we here at Greenleaf relay those statistics to you. Mr. Douglas was certainly not overlooked, getting top honors for his Trumpet playing (that's the 7th year in a row!), honorably mentioned in the Jazz Artist and Composer categories, as well as having Meaning & Mystery cited as one of the top Albums of the Year.
And while we are on the subject, he also received trumpet player of the year by the Jazz Journalists Association last week. While we celebrate here, Dave continues his tour with the SF Jazz Collective.
Lastly, who is more deserving of the Rising Star Flutist award then our own Nicole Mitchell? Our hats are off to her as well!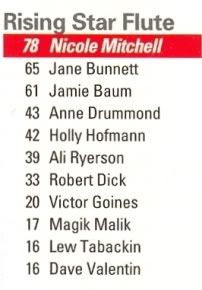 Other posts you may like: