Festival of New Trumpet Music at myspace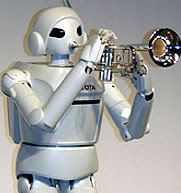 This week is the opening of the fifth FONT Music Festival! There's now a myspace, so go on over and make friendly-like. You'll get a good listen too: Nate Wooley, Ralph Alessi, Roy Campbell, Michael Rodriguez, Peter Evans, and many others.
This Saturday, September 15, FONT is joined by Brooklyn Jazz Underground, School of Improvised Music, Y'all of New York, Arts for Art, Studio WIS, and others in a benefit concert to promote education in creative music. Please join us at the Center for Improvised Music in Park Slope, Brooklyn. It's at Douglass Street between 3rd and 4th Avenues. 8:30 pm.
Sunday, September 16, 7:30 pm at Manhattan School of Music: The first American performance of Blue Latitudes, my composition for three improvisers and chamber orchestra. I will be playing as soloist along with bassist Mark Dresser and percussionist Gerald Cleaver. Legendary trumpeter Mark Gould will be conducting. The piece is 45 minutes in 9 movements for 3 soloists and 14 players. Also on the bill: A FONT commissioned piece from Huang Ruo, Trumpets in Time of War, written for the New York Trumpet Ensemble, Chinese vocalist and percussion. And Mark Applebaum's Magnetic North for brass quintet and improvising soloist, performed by Meridian Arts and Peter Evans.
There's plenty more happening this year — September 20 I will perform in a special collaboration with Jeremy Pelt and Dr. Eddie Henderson. Festival of New Trumpet Music web site has the whole deal.
Other posts you may like: